It's Saturday 16th January 2021. Our bikes and kit are filthy, Anna is feeling battered and bruised and I have aching calf muscles. That must mean today is 'Strathpuffer day' right? Well yes, kind of. Plan A was that we would race Strathpuffer as a pair. The infamous 24-hour endurance race was set to take place this weekend in Contin in what we now know would have been a snowy, icy, muddy affair (i.e. perfect 'puffer conditions). 2021 would have been the 16th year of the legendary event, had it not been cancelled this year due to the ongoing Covid-19 situation.
Like many of this years' Strathpuffer competitors, we decided to come up with a Plan B to mark the occasion in some way, and for us it was the perfect excuse to meet up and head out for a big (but not Strathpuffer big!) day on the bikes. Sadly, current guidelines in Scotland mean that since Anna lives in Moray and I live in Highland, this was not possible.
Plan C it is then. Plan C was to ride individually in our local areas but setting off together. We had the idea of aiming for 1000m elevation each as we wanted there to be some sort of challenging aspect to the ride and while this would have meant a longish day in the saddle, this should have been pretty achievable on any other day. But of course, this is winter, in Scotland.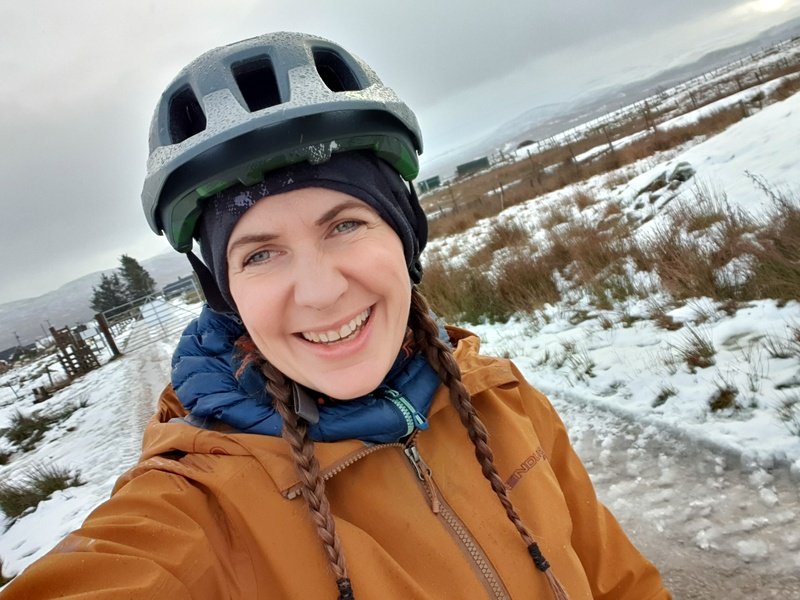 Snow and ice down to low levels in my local area meant that a solo ride where I would gain any sort of elevation would be out of the question. Coupled with an old calf injury flaring up (a souvenir from last year's Strathpuffer), the elevation challenge was out for me. Where are we up to now? Plan D?? All me and my aching calves could manage was a 'low and local' obligatory lap around a loch in the sleet on some very sketchy fire roads.
Anna's local trails on the other hand, were a bit less snowy and more rideable so she set about her elevation challenge lapping the same few trails. On her second to last lap, Anna took a tumble ending her ride with a somersault through the trees and a wee knock to the head, meaning she had to call it a day – just short of her goal at 930m of elevation.
Snow, ice, sleet, mud, crashes, injuries… we did a pretty good job of replicating the Strathpuffer experience! Although we couldn't be at the Strathpuffer or even join each other for a ride, we still had a good day doing what we love – riding our bikes. And we have to admit, getting into a cosy bed tonight for a full night's sleep is going to be dreamy!
See you at Strathpuffer 2022.