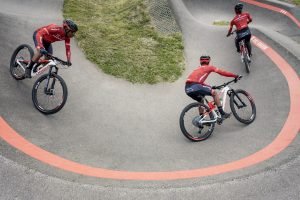 We're proud to support the Pump for Peace Racing Team, a remarkable group of professional mountain bike riders – Faranak Partoazar from Iran, Tumelo Makae from Lesotho and Unathi Nxumalo from South Africa- who have conquered many personal challenges just to get to the start line.
Through the team, we aim to provide riders with opportunities to excel in high-performance cycling worldwide, become inspirational leaders, and encourage their communities to embrace an active lifestyle. The talented team are part of a global initiative by Velosolutions to make cycling and action sports more accessible in underserved communities.
The trio are busy racing the UCI World Cup circuit at the moment and we're looking forward to welcoming them to Scotland later in the summer when they'll be racing XC at Glentress Forest in the Borders as part of the 2023 UCI Cycling World Championships. We checked in with the riders to find out how their season is going.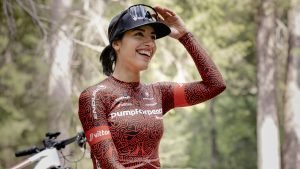 How has prep been for UCI MTB World Champs?
Unathi: My preparation for World Champs have been going well so far. I am already preparing for my UK Visa and also making sure everything is organised for that trip. As for my training it is going very well. Even the races I have done these past few weeks I have been having good days and sometimes I had some challenges.
When I raced my first World Cup this month I collected a lot of valuable experience, like what to expect at World Champs and how I should deal with such a high level race mentally. Also, I need to make sure that I stay healthy as much as I can because it is very important for me to stay healthy, especially before such an important race.
Faranak: Ironically, one of my biggest challenges was to get the UK visa. I faced so many issues during the process of applying. Fortunately, I made it on time!
Tumelo: The preparation for World Championships is going well so far.
How is season going? Highs and Lows so far?
Unathi: It's hard to tell how my season went so far, but I can say that at some of the races I have been feeling good and happy about how I raced the race. Some of the races did not go as planned but that's part of cycling.
Faranak: I am a very ambitious person, so it's sometimes hard to satisfy myself. But well, on the other hand, I remember all the hard paths I went through and I know happiness is the final goal. The season started really nice in an unexpected way for me with good races during an amazing training camp in South Africa. Then I had some lows with getting sick just before my first race block in Europe. But now I'm back in good health for the highest level of racing with the World Cups with really good support from the team and pushing my limits. It's painful but I love it for that. 🙂
Tumelo: The season is going pretty well there has been results I am proud of from the beginning of the season until this now. Getting sick here and there and not training properly have been some setbacks.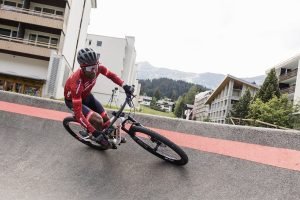 What do you want to achieve out of the World Champs – what does success look like to you?
Unathi: What I would like to achieve out of World Champs is to make sure to have my best race, finish the race with a smile and to gather more experience with racing against the best in the world.
Faranak: My goal is to be able to show my potential and my best at the Worlds both in XCC and XCO. To smile at the finish and be happy with my performance would be a success for me.
Tumelo: I want to finish on the same lap as the winner. That's my goal and I believe it's achievable, that's a success on its own.
Where are you looking forward to riding when you visit Scotland?
Unathi: Since it will be my first time visiting Scotland the place that I would like to ride trails is Glentress Forest where World Champs will be at.
Faranak: I have never been to Scotland. Since they are hosting such a big event, I am curious about the country and look forward to explore and ride there. So, I look forward to ride wherever possible. :))
Tumelo: I've never been to Scotland so I can't say much about riding there, but I can't wait to get there to ride some trails and race as hard as I possibly can.
What bit of Endura kit can't you live without?
Unathi: My favourite Endura kit is my SingleTrack Lite baggy shorts. I can even wear them off the bike and the new kit design is already my favourite as well.
Faranak: I am also proud to be with Endura this season. The progress and effort Endura made in order to make my wish come true about the special dress code I have, the arm and leg wear I have to put on, was so admirable! and I think finding people and partners that are passionate and ambitious as well as competitive on a high level is so precious for me. I love the jersey and the design of it. It's so creative!
Tumelo: I like every piece of Endura, it's perfect for all season, from summer clothing to winter clothing. It all fits really well for me. It's very hard to pick just one and say this is my favourite piece.