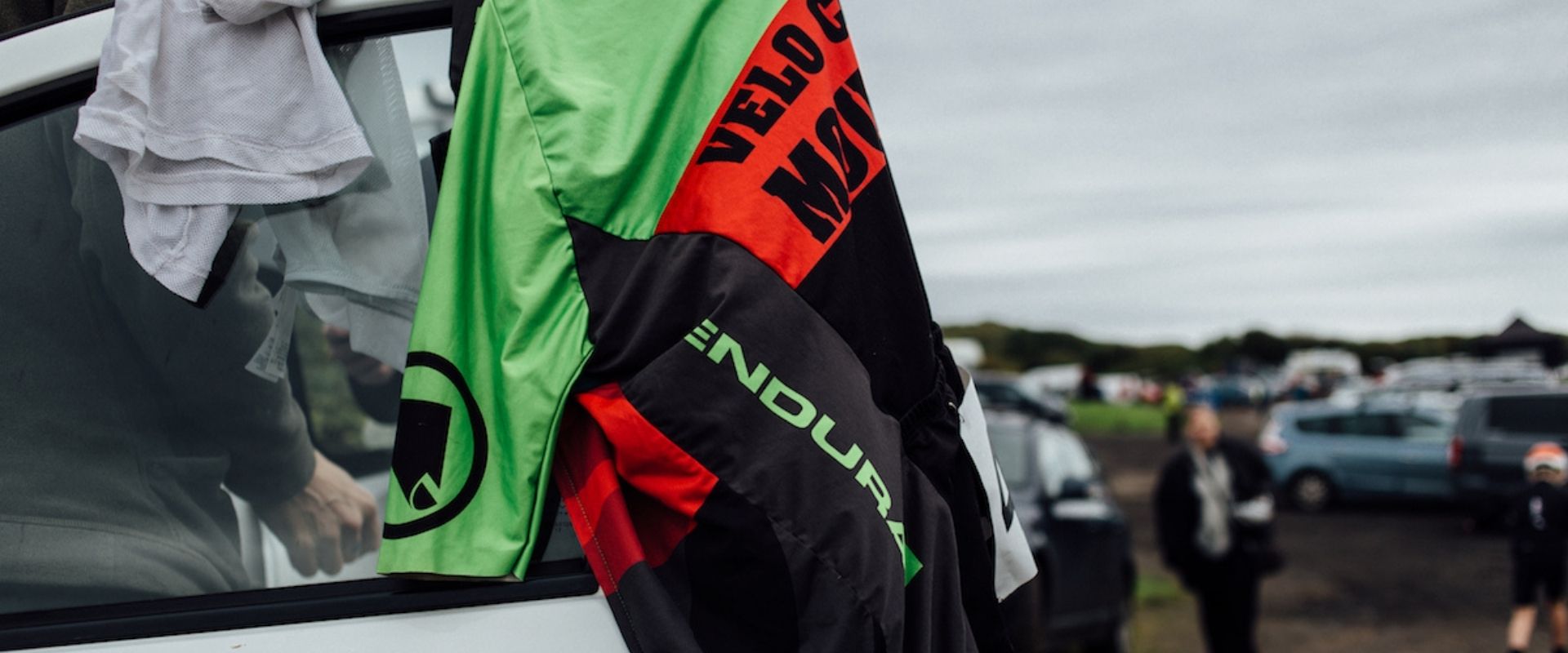 'CROSS DRESSING
Endura,VC Moulin and the great Scottish cyclo-cross boom
SEASIDE ENTERTAINMENT
Fast. Technical. Undulating. Panoramic. Relentless.
Few cyclo-cross courses in the world, far less in Great Britain, can match the 2.28km circuit at Irvine, on the west coast of Scotland, for sheer speed and excitement.
Nearly 500 riders sign on for the second round of the 2017/18 Scottish Cyclocross Series to lap an unrelenting course that boasts sweeping turns, a long, narrow strip of wearying sand parallel to the sea, and a ramp that forces most competitors to shoulder their bikes and run.
"This is grassroots racing; the fiefdom of the glorious amateur. Everyone wants to win, and no one cares if they lose."
Views of the Firth of Clyde are breathtaking from the top of this vicious incline, but by this point, the riders might be grateful for having their backs to the sea, for they surely have no breath to take.
There are kids and dogs and an unrelenting PA system, which belts out everything from pop to punk to funk, as well as an unflagging commentary (though the legendary Jammy Johnstone is absent). There is a small army of pint-sized riders present to contest a combined under-10 and under-12 category, who launch into battle with the zeal of a cavalry charge.
There is a sole professional, Grant Ferguson of the CST Sandd American Eagle Mountainbike Racing Team; one of the skinny kids of recent memory, but who today wins the elite race at a canter. The battle behind him, however, is the best of the day, and ends in a photo finish.
At the centre of it all, there is a team called Velo Club Moulin, who race in a striking red, black and green kit that even the most ardent traditionalist might concede is cool, and so well fitted, it wouldn't disgrace a UCI WorldTour squad.
In short, it's all very Endura. If VC Moulin wear the same WT kit as Movistar Team, then this is only the most visible demonstration of a brand that lives at every level of the sport (as well as offering an incomparable custom range, made by hand in Scotland).
Gleaming team buses are notably absent from the car park, but Irvine is no worse for it. This is grassroots racing, after all; the fiefdom of the glorious amateur. Spare bikes are an uncommon sight, and even a spare set of wheels represents a rare degree of seriousness. Everyone wants to win, and no one cares if they lose.
MONSIEUR MOULIN
Chris Duncan is the founder of Velo Club Moulin; a team he describes as comprised of vagabonds, rogues and misfits. Their red, black and green kit is prominent and unmistakably stylish. It's a custom design applied to Endura's WT kit; an unsurprising turn of events, given Duncan's job as account manager for the Livingston brand.
"It's for people who want to be in a club, but don't want to be in a club, you know?" he says of VC Moulin. "So it's a bit of a band of rogues. It kind of grew bigger than it was supposed to; it was only supposed to be about half-a-dozen people. The only condition is that you race 'cross. If you don't race 'cross, then you can't be in!".
"VC Moulin is for people who want to be in a club, but don't want to be in a club. It's a band of rogues." Chris Duncan, Founder, Velo Club Moulin
All of this is said with a smile. Duncan's tongue is never far from his cheek. If others find the VC Moulin kit cool - and he is constantly being approached by people wanting to join - then that's fine; if they don't, that's fine too.
Changes in kit design are all part of the fun for Duncan. The staidness of established clubs, who seek to reinforce their identity with an unchanging appearance, is not for him. He has raced bikes for nearly 30 years, returning to 'cross in the early noughties, inspired by the purchase of a 'cross bike and "despondency with mountain biking".
A particularly brutal encounter with the Strathpuffer endurance race ended a long affair with fat-tyred competition, and 'cross fits into the busy life of a working parent. Having spent years driving up and down motorways to mountain bike races, the appeal of a sport that ends in time for Sunday dinner is not lost upon him.
Duncan delivers a committed performance in the V50 race, but is derailed by a crash that twists his handlebars. The "faffing around" that follows costs him several places, and he is the 33rd of 77 competitors to cross the finish line. He is not discouraged however and wears a broad grin for much of our conversation. Irvine felt like proper racing, he says - a condition he clearly finds agreeable.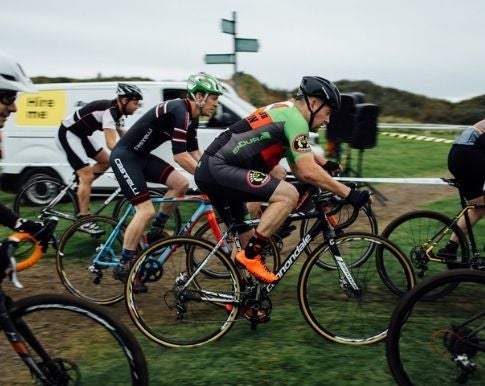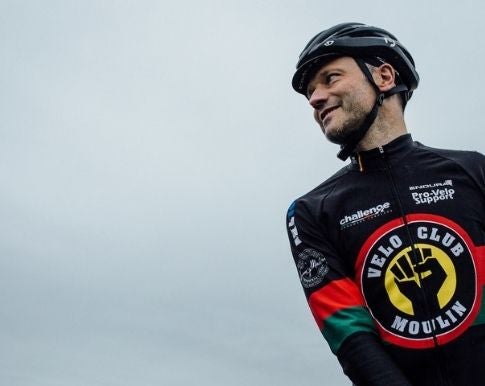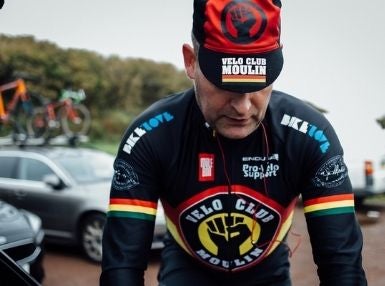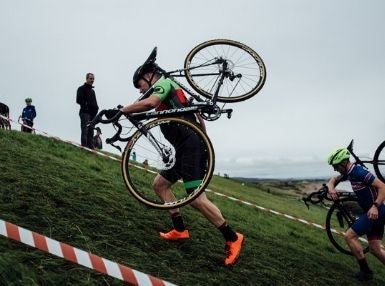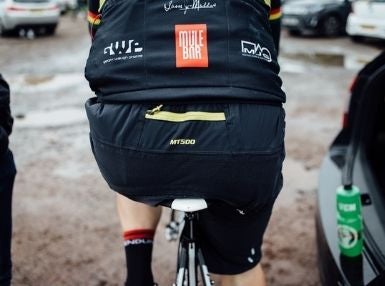 MAN OF STEELE
Martin Steele is in his element. By day, Endura's social media man and events coordinator, he is entirely at home at a 'cross race. Preparing to race for VC Moulin, he is relaxed, jovial and armed with a seemingly endless supply of desert dry quips on 'cross, the universe and everything.
An example? It's unseasonably warm for an October day in Ayrshire, continuing a recent trend for the Scottish 'cross season. The climate is a factor Steele identifies among the many fuelling the local 'cross boom. Few races have suffered appalling weather from the start of the meeting in recent seasons. "Global warming is helping cyclo-cross," he notes, with an eyebrow raised.
"A race held near Stirling at the beginning of the season would always break records, and freak out the other organisers." Martin Steele, VC Moulin
Later, when a passer-by comments on the "tropical climate" and enquires if there is an ice cream van in the vicinity, Steele requests a '99' before his race. "With sauce?" the man asks. "Broon," Steele replies, without hesitation. "Remember, I'm from the east coast."
Steele is a cyclo-cross diehard, who was introduced to the sport by Finlay Pretsell, the documentary film maker (in an improbable turn of events, the pair met while working for an insurance company). He joined the fledgling Scottish Cyclocross Association in 2008 (more of whom later), and has witnessed at first hand the sport's extraordinary growth in Scotland.
Steele is here to compete in the V40 category; a class he refers to sardonically as "V40 Pros". He notes that the sharp end of the younger of the veterans' categories is now "pretty rapid". 'Sharp' might be the mot juste, given the frequent use of elbows, as more than 120 riders sprint from the line. Perhaps Steele is not alone in admitting that his competitive streak only shows itself during a 'cross race.
There can be few better sources to question on the growth of cyclo-cross in Scotland, or indeed any aspect of the sport. Steele has raced for several years, administered the SCA's digital channels, travelled to Belgium to watch elite races, raced at a Cross Crusade in Oregon, and with friend and colleague Duncan, has flown the flag for VC Moulin for season after season.
'CROSS STITCH
Looking good on the bike is at the centre of the VC Moulin ethos. The team once changed its kit design twice in a single season. Only the clenched fist, which first came to prominence in the 1960s as a symbol of the Black Power movement, and was later adopted by the Northern Soul sub-culture, has remained constant.
Beneath the obvious qualities of a cool-as-you-like design, lies Endura's WT kit; garments familiar to Movistar Team and to Cervélo Bigla. VC Moulin's kit might serve as an unofficial showcase for the combined talents of the custom clothing division in Livingston: garments made by hand to WorldTour standards, and finished in a design of the customer's choosing.
"At most races in Scotland, you're racing in jersey, base layer and shorts, if you've warmed up properly - and if you haven't, you soon will." Martin Steele, VC Moulin
"We would have been the first team to get the WT Kit," Duncan recalls. "I love it. It's pretty much all I ride in now. It does exactly what it says on the packet. The fit is good and the fabrics are great, taking colours really well, and washing well, which is obviously a bonus for 'cross."
Steele is another impressed by the quality of VC Moulin's clothing. His connection with Endura (and a desk at Livingston HQ stationed mere yards from the custom clothing division) gives him a level of insight into his team kit that only Duncan can rival.
"The WT kit is so good," he says. "It looks better on some people than others, and I'm definitely at the 'others' end of that spectrum, but everyone who uses it loves it."
There are several of Endura's off-the-peg items in Steele's 'cross wardrobe, too. If conditions are filthy, he will ride practice laps in the MT500 Spray Baggy II mountain bike short. During warm up sessions in very cold conditions, he is apt to don a Pro SL PrimaLoft Gilet. And Duncan's pre-race attire has included the Helium 3/4 short.
"A lot of people who are new to 'cross think that because it's a winter sport, you need to wear a jacket or a gilet, but at most of the races in Scotland, you're racing in jersey, base layer and shorts, if you've warmed up properly - and if you haven't, you soon will."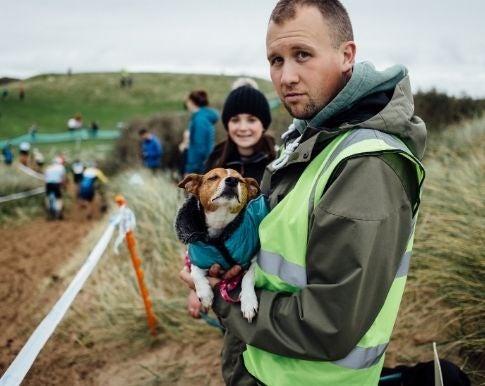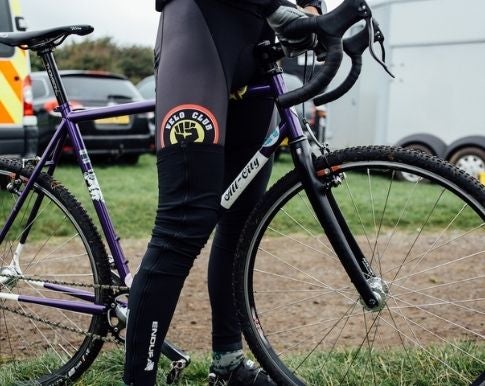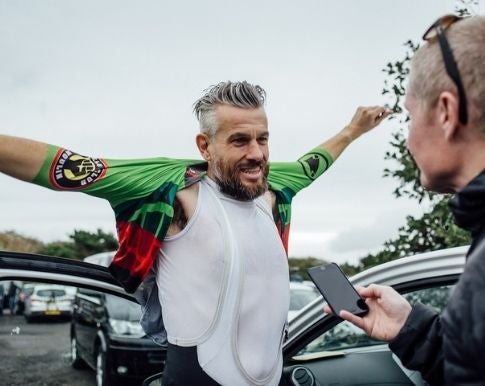 BOOM TIME
"I can remember races where we got to fields of 100 riders, and thought it will never go to 150 or 200 riders, and the next season it did," Steele says. "A race held near Stirling at the beginning of the season would always break records and freak out the other organisers, who'd think, 'We're going to run out of car parking spaces', or, 'We're going to need more first aiders.' It's the same now."
Rewind nearly 20 years, and the picture revealed was quite different. Steele reports turnouts of 30 or 40 people for 'cross races in Scotland in the early noughties, while fields for cross-country mountain bike races were ten times as large. Today, he says, the situation is reversed.
"We can't have fields of 150 for every age category. We just simply couldn't cope with those numbers." Gordon Watt, Secretary, Scottish Cyclocross Association
Steele credits Davie Graham, who established the Scottish Cyclocross Association in 2007, for the sport's renaissance. (Graham's greatest gift to Scottish 'cross might be the December race on Mull; a course that includes a castle, and which Steele describes affectionately as "ridiculous").
Graham served as SCA secretary for ten years, and his initiative saved the sport from a "hotch potch" of administrative influence, according to Steele, who remembers the sport exploding "in quite exciting fashion". He joined the committee in 2008 to look after its website and social media accounts.
Gordon Watt later took on administration of the SCA website, and, when Graham stepped down, the role of secretary. Today, Watt is trying to manage a boom in the sport's popularity - a not unmixed blessing.
"People are asking for a V60 race, and at the other end of the spectrum, we have people asking that we split the under-10s and the under-12s. Everybody wants a little bit more, and the pressures are starting to show on the venues and the organisers," he says.
The fixture that follows Irvine proves his point. Some 689 riders sign up to race at Fife College in round three of the series - a new Scottish record.
"In the short term, we're just trying lots of different formats to fit people in, and we are fitting people in, but we can't have fields of 150 for every age category. We just simply couldn't cope with those numbers. The next couple of years will be telling."
BIKE FOR LIFE
The bike has played a pivotal role in the growth of 'cross. Nearly everyone at Irvine is racing on a dedicated cyclo-cross bike; a radical shift from 20 years ago, says Steele, when many of the small number who showed up to race did so on mountain bikes. Now, even the under-12s at Irvine race on 'cross-specific machinery.
Many of those discovering the sport are road riders. The 'n+1' mantra has done much to fuel sales of bikes intended for tarmac. It may also have boosted the popularity of 'cross bikes, which are hardy, versatile and fun to ride; machines that open up avenues for exploration. And compared to sophisticated carbon fibre road bikes, they are not expensive.
"Because the races are short, equipment will only aid you so much. With 'cross, as a general rule, the strongest person will win." Chris Duncan, VC Moulin
Duncan concurs. The weapon he has selected for this year's campaign is a handsome steel steed, packed with details to delight the connoisseur (a Phil Wood hub at the rear and Chris King at the front, for example). But he is quick to stress that 'cross is not a discipline in which advantage can be purchased.
"There's a danger it could be driven by equipment, but because the races are short, equipment will only aid you so much. If you're doing a 100-mile road race, the advantages of the best equipment will be huge, but with a 40-minute 'cross race, the advantages are smaller.
"It's more grounded in that respect. I like that over mountain biking as well. Mountain bike tech is great for the sport, but there are disadvantages. But as a general rule, with 'cross, the strongest person will win."
Steele is another who regards equipment only as a small piece of the jigsaw. He changes his tyres once a year ("I'm not Sven Nys") and focuses on keeping his machine in sound condition.
"This is grassroots racing," he notes, approvingly. "There are people here with a couple of bikes and a jet wash, but it's very much the minority. I change my tyres once a season, but that's as close as I get [to professionalism]. I try to make sure the bike is actually working…or at least working ok."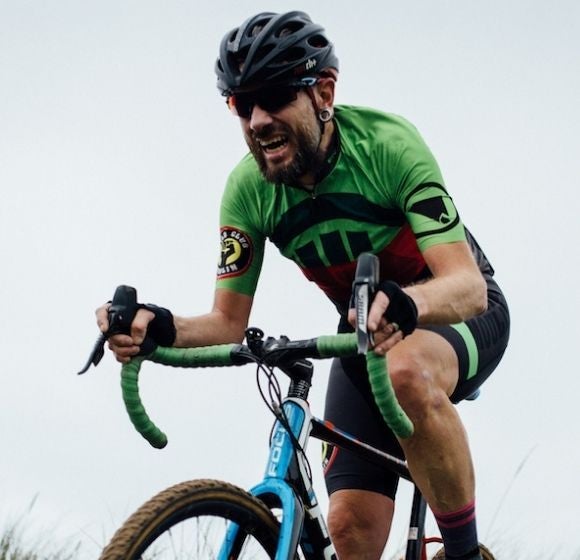 DRIVEN MAN
Matt Smith has driven for three-and-a-half hours to race for 40 minutes, but his ear-to-ear grin confirms that he has made the right decision. How was the race? "Rocket fast!".
Smith embodies the VC Moulin ethos. There's a healthy dose of punk in his aesthetic, later confirmed when he discusses his 12-year-old daughter's love of 'cross. Her name? "Ruby Soho."
"A lot of mums and dads take part because they brought their kids to races and thought, 'This is do-able.'" Matt Smith, VC Moulin
He had driven from Aviemore in the Scottish Highlands to Irvine, for once leaving his family behind in pursuit of 'cross action. Normally, they race as a unit. His wife Elisa is another member of VC Moulin, and introduced Alicia Lawson (more of whom later) to the team.
"It was good today," Smith says, with a huge smile on his face, and the post-race rush of endorphins clearly upon him. He was seemingly everywhere in the V40 race, and passed a healthy number of his competitors.
"It was properly fast," he continues. "Just rocket fast at all times, with no rest. It was dry and grippy and felt like racing. Last week, it was muddy. I'm from a road background, and I'm kind of fast and powerful, and there were lots of places on this course where you could be fast and powerful, rather than sliding about in the mud."
Smith's appearance belies his professional responsibilities. As a 45-year-old civil servant, and a husband and father to boot, he has more to consider than bike racing. He embodies the appeal of 'cross to families: training for just seven or eight hours a week to remain competitive. His wife and daughter share in the experience, not only by cheering him on, but by competing.
"A lot of mums and dads race because they brought their kids to races and thought, 'This is do-able'. Your whole family can come and race. Last year, my daughter was racing, I was racing, and my wife was racing, so it's a family day out. My daughter gets to run wild in the park, and eat chips and cake."
We end our conversation with the $64,000 question: was the race worth driving for three-and-a-half hours to take part in?
"We'll find out exactly when the result comes out!" Smith says, then offers an immediate clarification. "No, don't worry about the result. It was definitely worth it."
LACROSSE TO LA 'CROSS
Alicia Lawson is as honest as they come. Ask her about her commitment to VC Moulin and she will describe it as "a bit transient". Watch her compete, however, and it is immediately apparent that her commitment to 'cross is total, once the race is on, even if she struggles to describe its appeal.
"I'd bought the cyclo-cross bike, and thought I should use it for its intended purpose, and just found that I really liked it," she explains. "No one can really explain why they like it, can they?".
"Cyclo-cross is its own little world. I'd like to keep that special." Alicia Lawson, VC Moulin
Lawson is a formidable competitor and all-round sportswoman. She plays lacrosse to national standard and is a rugby player, too. She finds that cyclo-cross is a fine complement to her other sporting commitments. Scientific testing revealed its advantage to her overall performance.
"My Vo2 max didn't increase, but my lactate threshold has increased a lot, and the sports scientists thought it was because of the cyclo-cross, just because you're constantly working at your anaerobic threshold. That helps my lacrosse so much, because I can work at a much higher rate than other people, if my lactate threshold is that much higher."
She was asked to join VC Moulin by Elisa Smith, wife to Matt, and her progress has been impressive. Before she takes the start in Irvine, she already has an early-season victory to her credit, and in her previous outing had been en route to a fine fifth place, before a broken rear mech ended her challenge.
When we speak after the race, her enthusiasm for the course ("Really good fun. No let up!") is tempered by despondency at her own performance: she struggled to find a rhythm on Irvine's undulating circuit.
"When I tried to get past people, I couldn't maintain the momentum. I'm normally the one whipping through sections, and today I felt like I was the one getting whipped through, instead. I got really grumpy!".
The grumpiness is not in evidence when we speak. Her mission as she takes her leave is to consume a recovery drink and cheer on her team-mates in the following races. 'Cross occupies a special place in a busy existence as a school teacher with a host of sporting commitments.
"Lacrosse takes over a bit more of my life, whereas 'cross, because it's an individual sport, takes over my life less, but it's still got that good vibe," she explains.
"You don't have to chat to people during the week; you can just see them at the weekends, and the support you get from everyone is really nice. It's like its own little world. I'd like to keep that special."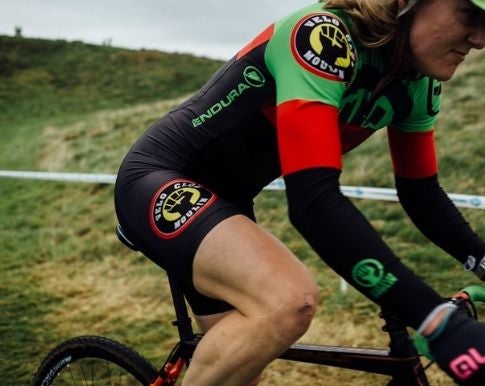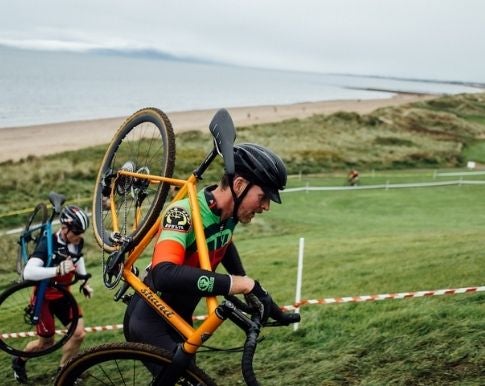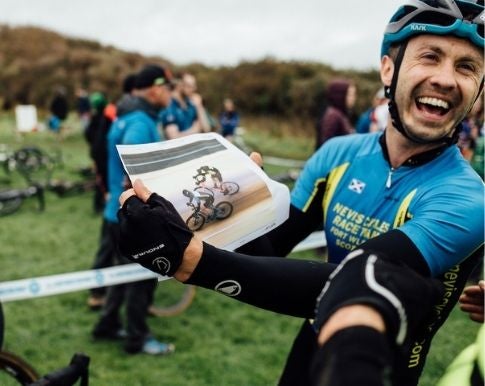 RUNNING MAN
Russell Stout runs up the 'staircase' section at Irvine, if not with ease, then with the air of a man who has done these things before. We learn later that he was a fell runner, and things fall into place. He may not have shouldered a bike as he ran in his previous sporting life, but he is clearly used to suffering.
"It was quite steep," he says, modestly. "It never gets any easier, as the saying goes, but I love this course. It's my favourite, but I haven't done it for a bit, and it's changed over the years. There's a section at the back of the course, which is really fast; you can just keep hammering down.
"Cyclo-cross and cross country running are pretty similar, I think; the atmosphere and the camaraderie." Russell Stout, VC Moulin
"There were a couple of points where I was just pushing too hard and came off on the bends, losing a few places each time, so that was a bit frustrating. I had to stop and straighten the bars, because they twisted."
As a director of Shand Cycles, Stout is able to offer an informed opinion on the growth in popularity of cyclo-cross, especially in Scotland. He describes himself as one who has ridden drop handlebar bikes off-road "since before it was a thing" and seems slightly bemused by the "gravel" phenomenon; a concept he says that used to be known as "just riding your bike".
He sees a similarity between the community atmosphere at cyclo-cross races and at fell running events, or, more specifically, given the comparatively short duration, of a cross country race.
"It's actually quite similar, I think: the atmosphere and the camaraderie, and all that kind of stuff. It depends on the hill race. I used to quite like the longer distance stuff. I'd say this [cyclo-cross] is more like a cross country race. You might have a cross country race in the winter and prepare with 10km runs in the summer."
GRAND DAY OUT
Scotland's cyclo-cross boom shows no sign of an immediate end. Its extraordinary growth seems to have been achieved by nothing more strategic than a warm welcome and the promise of honest racing. Everyone involved can be proud of their achievement, even if they now face being overwhelmed by its success.
The smiles and exhausted expressions captured by photographer Sean Hardy in the images that illustrate this article tell their own story. It speaks volumes that the greatest battle at Irvine is conducted by two amateur riders in the wake of the only professional on duty.
"Inclusivity seems to have fuelled the growth of 'cross. A sport that prides itself on the friendliness of its welcome deserves to succeed." Pamela Barclay, Brand Director
Grant Ferguson's speed was mesmerising, but the race-long battle that broke out behind him between Gary MacDonald and David Duggan had the crowd enthralled. The contrast between the almost effortless progress of the naturally gifted, and the determination of those with spirit as their principle asset could not have been greater. MacDonald's smile, as he clutches an image of his photo finish with Duggan, says everything.
For Brand Director Pamela Barclay, the cyclo-cross scene in Scotland offers the clearest example of Endura's connection with grassroots cycle sport.
"Cyclo-cross is fun, easy to enter, and open to all. It's not surprising that it's grown so rapidly. Inclusivity seems to have fuelled this growth, and a sport that prides itself on the friendliness of its welcome deserves to succeed.
"We know how passionately Chris and Martin feel about 'cross, and how pleased they are with Velo Club Moulin's custom WT kit. It's a feather in Endura's cap to know that it performs as well in the Scottish Cyclocross Series as the UCI WorldTour."
Racing will return to Irvine in February, and so too, in all likelihood, will the families and the professionals, the juniors and the veterans, the established clubs and the "vagabonds" of VC Moulin. The windswept vistas of the Firth of Clyde may be more windswept by then, but the riders will be having too much fun to care. With 'cross, it seems, the pleasure always outweighs the pain.
FOOTNOTES Words by Timothy John. Images by Sean Hardy Irvine Beach Park, Irvine, United Kingdom
© 2021 ENDURA