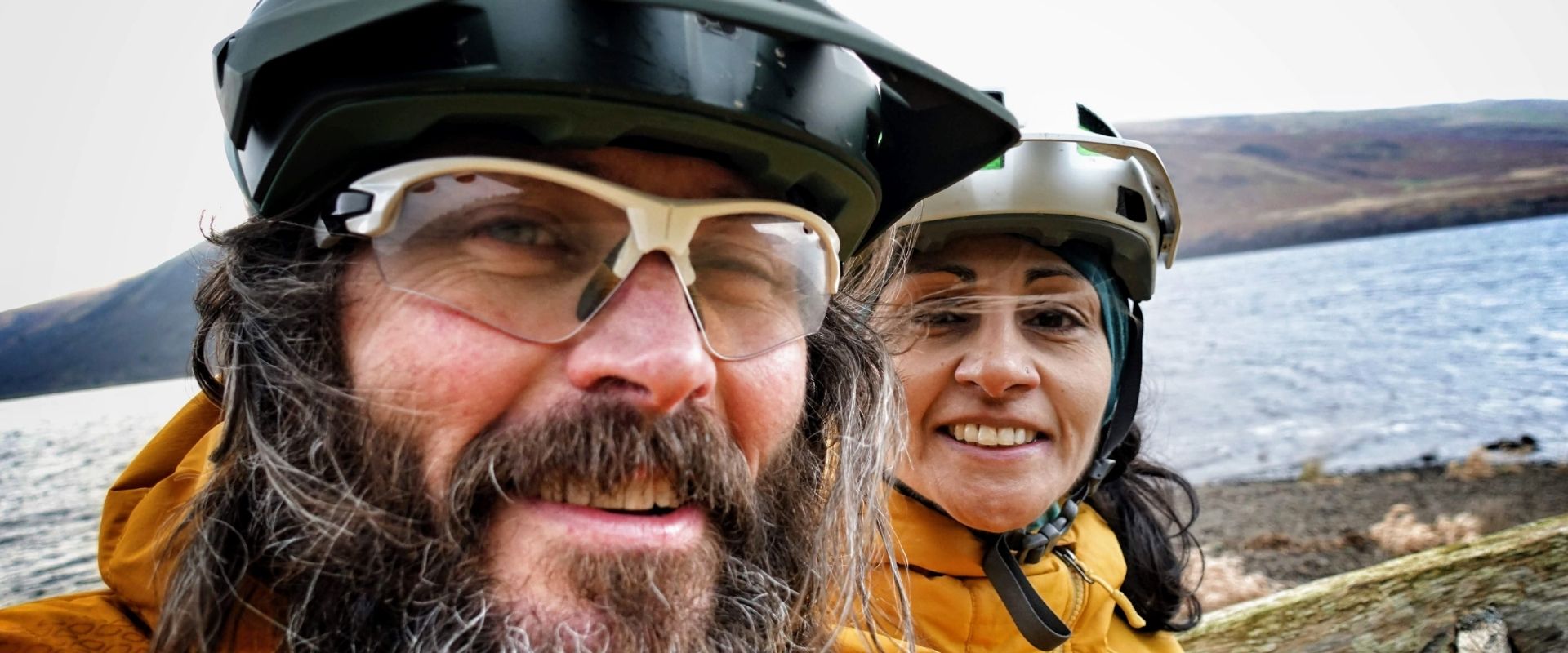 BEATING THE WINTER BLUES
With Go-Where Scotland's Aneela and Amdy
Howling wind, lashing rain, dark mornings, dull days and mud, mud, mud. Winter is a hard time of year on both body and brain, making the simple pleasure of getting outside a major effort of will and preparation.
No wonder most people experience the winter blues to some extent; that lowering of mood that has us reaching for the duvet rather than the bike. Even the most experienced of outdoors experts aren't immune to the effects of the weather and season.
Andy and Aneela McKenna are the owners and founders of Go-Where Scotland, a bike guiding and holiday company that weaves the warm hospitality and the dramatic landscape of Scotland together into unforgettable experiences that guests travel from around the world to experience.
And being based in Scotland, they are no strangers to wild, wintry weather or the depressant effects of the low months.
"We have a name for Scottish days that are dark and gloomy: 'dreich'! It translates as 'Wet, dull, gloomy, dismal, dreary or any combination of these." Aneela explains. "Scottish weather at its most miserable'. In Scotland everyone likes to talk about the weather, as we can have four seasons in one day and have to be prepared for any eventuality. And in the winter, it falls dark at 4pm!"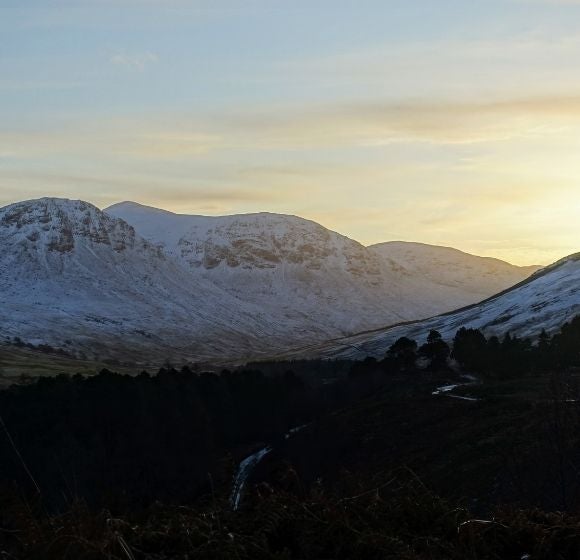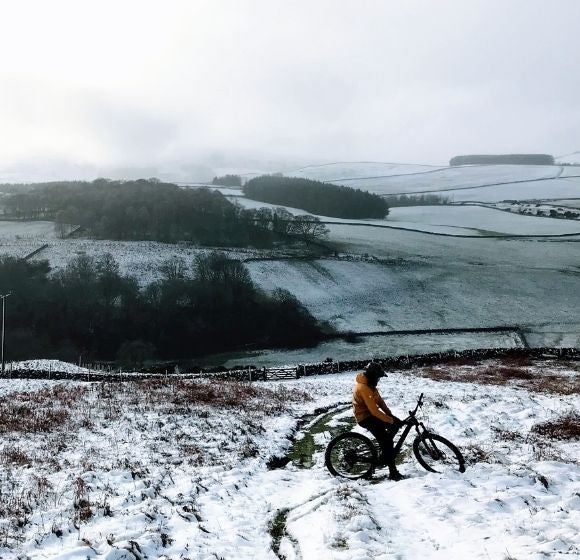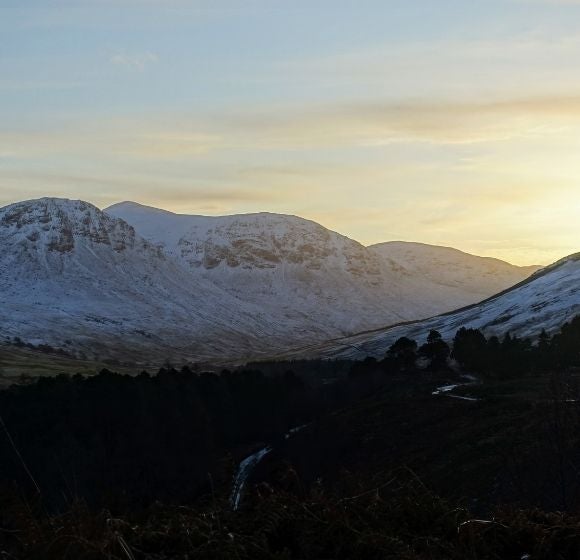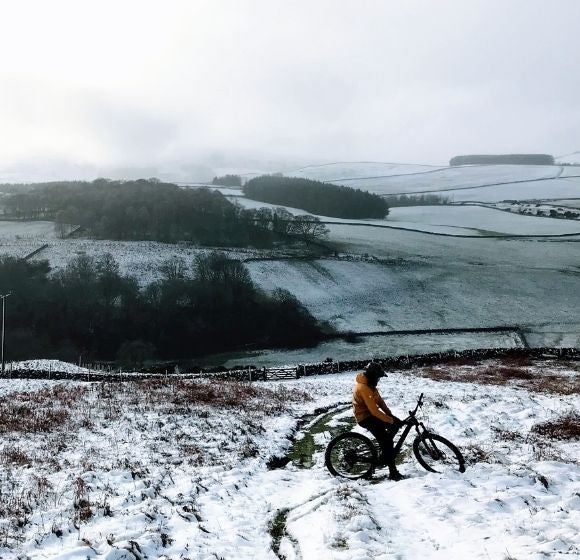 So here's the crux of the issue: how do you actually motivate yourself to get out the door when it's miserable, or at least minimize the various distractions that might stop you?
Having had a LOT of practice, Andy has a few tricks up his sleeve that's he's more than willing to share.
"Firstly, I have my riding kit ready the night before regardless of what the weather forecast is saying. If it's rubbish, I'm a lot more likely to get out on the bike if I'm already togged up. Secondly, I fill my flask with hot Bengal Spice2 tea with a spoonful of honey. It fits in my bottle cage, and nothing lifts the spirits on cold, dreich days like a hot cuppa! And thirdly, I have my best thoughts when I ride a bike, so for me it's an essential part of keeping my mind open and creative."
"That means," he adds, "that when the 'liquid sunshine' is pouring from the skies, I give myself a wee reminder to get off my backside and get outside."
Aneela is a big fan of social rides, and highly recommends a group ride with your friends as a motivator to get outside. "You don't just get to ride your bike, you get to laugh with your friends and feel energised by being around good people and good vibes!"
"I also plan a coffee stop and tell myself what treat I'm going to have when I get there; a scone, some soup and home-made bread, or a piece of carrot cake."
And finally, she suggests not even looking out the window before you go. "Just get out and ride, and be prepared whatever the weather!"

Having good kit most certainly helps, as keeping warm and dry when you're out and about makes the whole thing a lot more pleasant, and Aneela is a big advocate of layers and spares.

"The MT500 Freezing Point jacket with a BaaBaa Blend Base Layer with two Multitubes - one for my neck and one for under my helmet are part of my standard kit. Then Hummvee Waterproof Socks, MT500 Spray Trousers and the Strike Waterproof Gloves," she lists, explaining that since she's often out for four hours or more at the weekend, she packs a few extra items to stay warm at that all-important cafe stop, including "the super cosy Deluge Winter Gloves, another multitube, spare socks and the Women's Pro SL PrimaLoft Gilet, which all fit into my fanny pack!"
Andy is also a big fan of the Pro SL Gilet; "Trust me," he says "It packs to nothing and has become a firm favourite all year round!"
For warmth when it's really, really cold, the Endura MT500 Freezing Point kit comes into its own. "When it's baltic, say four degrees down to minus digits, I'll be togged up in my MT500 Freezing Point pants and jacket combo with a BaaBaa Merino Jersey and SingleTrack Windproof Gloves."
New for winter 2019, the Freezing Point range comprises a jacket and trousers that feature PrimaLoft® Gold Active insulation with water-repellant stretch fabrics, and waterproof splash panels on the rear of the trousers. There's also fleece-backed neoprene overshoes that are flat-pedal compatible.
"With MS, controlling core temperature and maintaining the right temperature balance when riding has become tricky, especially in winter. The MT500 Freezing Point kit is lightweight, breathable and the vented zips are in the right places to help me cool down enough to stay wobble-free on the bike. Then for descents or cuppa-stops, I'll zip them up and be toasty in a couple of minutes!"
"To be honest, some days I've been wearing the MT500 Freezing Point Trousers as much off the bike as on! And I'm looking forward to a few sub-zero bothy bikepacking days, when this kit really comes into its own!"
Feeling down is normal in the winter months, so allowing yourself coping strategies is totally fine, whether that's a hot bath, a slice of cake, or a wild and wet ride with your friends. Or, for best effect, a sequence of all three.
"Knowing how good being outside makes me feel," says Andy, "is quite the tonic to combat the winter blues."
So plan your adventure, get your friends together, lay that kit out ready and waiting and hit those trails.
*https://www.health.harvard.edu/mind-and-mood/sour-mood-getting-you-down-get-back-to-nature
Footnotes Words by Aoife G;ass, Photos by Andy and Aneela McKenna, Scotland, UK
© 2021 ENDURA